Services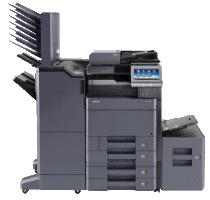 We offer free consultancy and a local personalised service. All our engineers are fully trained to give you quality backup and after sales support.
Our products are fully guaranteed and are available for purchase, rental, lease or HP. We have a wide range of copying equipment, colour photocopiers, colour printers, digital photocopiers, digital printers, colour laser printers, fax machines, scanners, computers, telephone systems software and consumables.
Print Audits
It's not uncommon for a business not to know exactly how much they spend on their printing. Print costs can easily run out of control, especially if your business is running multiple print devices with a print management system in place.
Read more about Print Audits
Print Management
Managing your print fleet can be time consuming and an expensive overhead in terms of time and costs. Claymore Business Solutions and Kyocera can provide practical, low-cost print management solutions suitable for a wide range of purposes.
Read more about Print Management
Need some advice?
Call us: 01606 558 887
And we will find a solution to fit your business
WHY CHOOSE US?
Free consultancy and advice
New and used machine bought and sold
All products are guaranteed
Existing finance agreement are no problem
We offer sales, rentals lease & HP packages
Short term photocopier rentals
Fully trained engineers and quality after sales service